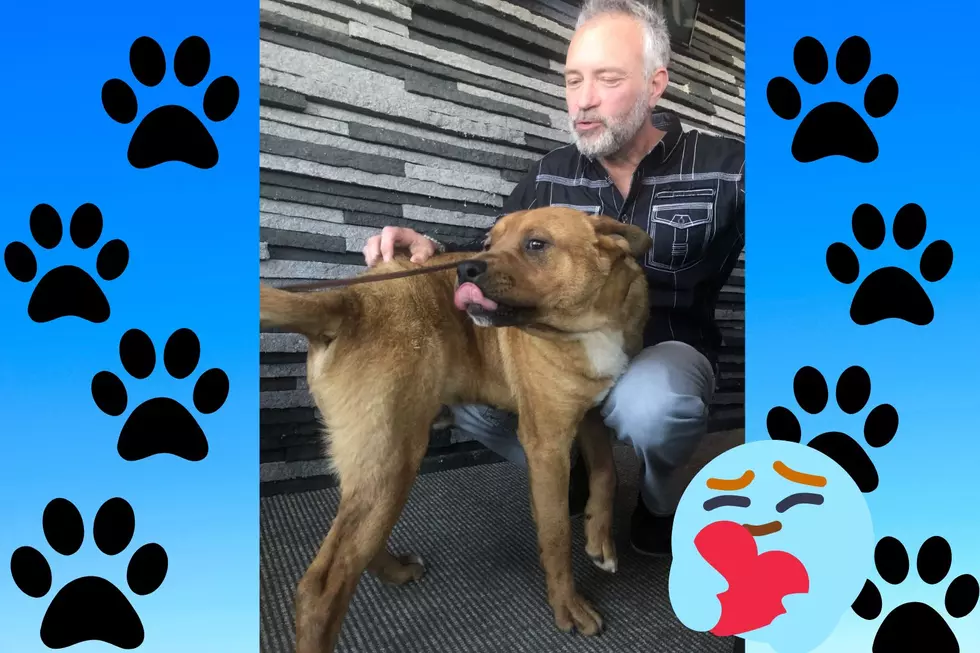 Most Beautiful Boy, Butter Ball is a GEM! Take Him Home
Credit: Canva
Wet Nose Wednesday 
Our favorite day of the work week is Wednesday because we get to shower a shelter pet from YVAS with love, cuddles, and compliments. Trust us- Butter Ball is the nicest dog we've ever met. And the cutest name too.   
Butter Ball came into YVAS (Yellowstone Valley Animal Shelter) as a stray and we just can't understand how. His friendly disposition is exactly what any human hopes for in a doggie. He wears a big smile and is very chill. He just sat in the studio, didn't make a ruckus or a peep. Michael obliged this good boy with butt scratches. 
Personality and Breed
Butter Ball is a 2 or 3 years old, and is a Chesapeake Retriever-Lab Mix with a beautiful reddish, golden coat. He's quite soft, and loves to sit right next to any human. Butter Ball is very gentle. He has bouts of playful energy but even then, he is calm. That's a win-win my friends. He just got neutered and has all his vaccines, he's ready to go! 
This good boy will be your best friend. He likes to take car rides and is going to be a wonderful addition to any family or as a single dog. Candace from YVAS told us while the other dogs play in the sun outside, Butter Ball just lies around, hanging out. Talk about the most perfect angel. He will do well with kids and cats.  
If you'd like more information on this beautiful boy Butter Ball contact Yellowstone Valley Animal Shelter.
Yellowstone Valley Animal Shelter has been around the Billings Community since 2007 and became the official city companion for sheltering animals in 2009. Since the creation of YVAS, they have become the largest animal shelter in Montana, with over 5,000 animals coming through their doors each year.  
Right now, YVAS is more than just a shelter. They work toward reuniting lost pets with their owners, provide adoption services, offer foster care for pets, and go out of their way to volunteer in the community. 
Wet Nose Wednesday is brought to you by Big Sky Pet Resort.  
Click here to see everything they offer- grooming, daycare, and more!  
7 Celebrity Weddings in Montana
There are plenty of celebrities who have visited Montana recently, and sure, there are lists of celebrities who have made their home here, but what about the celebrities who plan their special day in the Big Sky State? Here's a list of celebrity weddings that occurred in Montana, as well as one we're not sure about, and one that had to change locations.