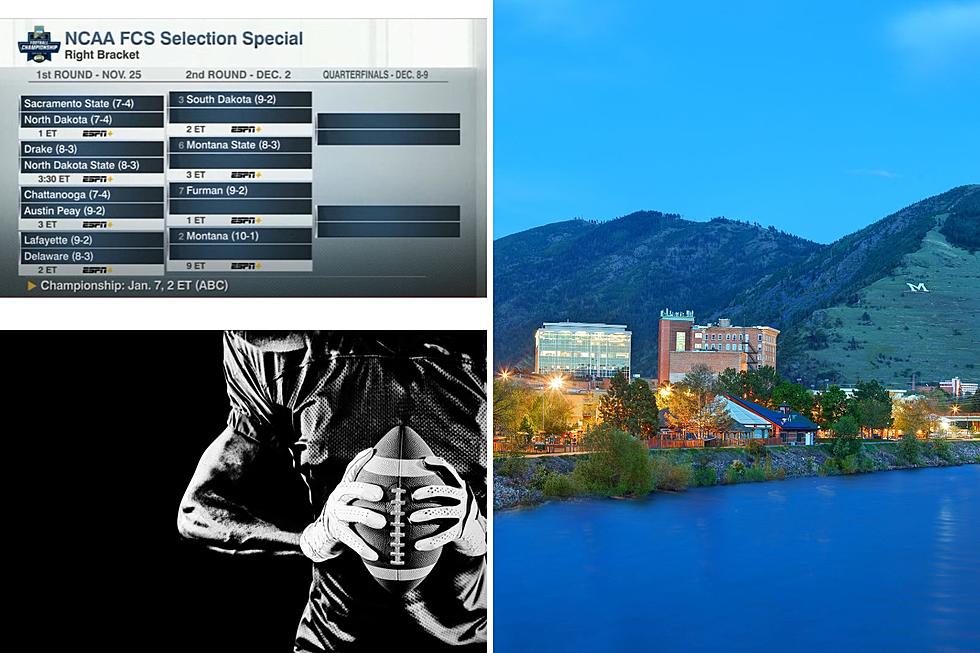 Proof We Could Have Another Cat Griz Game Very Soon
Credit NCAA Championships YouTube Screenshot/ Canva
Check out that bracket- we could have another Cat Griz football game here in Montana next month. And since The University of Montana Grizzlies came out on top on Saturday, Missoula would get to host the potential playoff matchup.
That's if both the Montana State Bobcats and the Grizzlies win their first two playoff games coming up December 2nd and the weekend of December 8th, of course.
(Note: Thanks to Richie Pemberton for correcting me on the initial dates I initially published)
If either the Cats or the Griz make the national championship, that game would take place on January 7th, 2024. Both the Cats and the Griz will host home games on December 2nd. If they both win their first two playoff games, they will play each other in Missoula.
A 2nd Cat Griz game in Montana would be epic. I was able to make Cat Griz two years ago after we weren't allowed to have a game in 2020. The bitterness that might sometimes show between fans of the two teams did not seem to be there back in 2021, as people were just happy to be able to have a game. Until the 2nd half, and then moods changed with the scoreboard of course.
Usually the playoffs are a great opportunity for fans who can't normally score tickets to be able to make it to the game. But another Cat Griz would of course be an easy sellout crowd. Plus, with hunting season out of the way in December- it's a little easier to free up the calendar for some football.
Here's the full video of the NCAA FCS playoff bracket selection:
LOOK: See the Most Famous Musician Born the Same Year As You
Stacker
identified musicians born in every year from 1920 to 2003 and determined the most famous born the same year as you.
Gallery Credit: Stacker