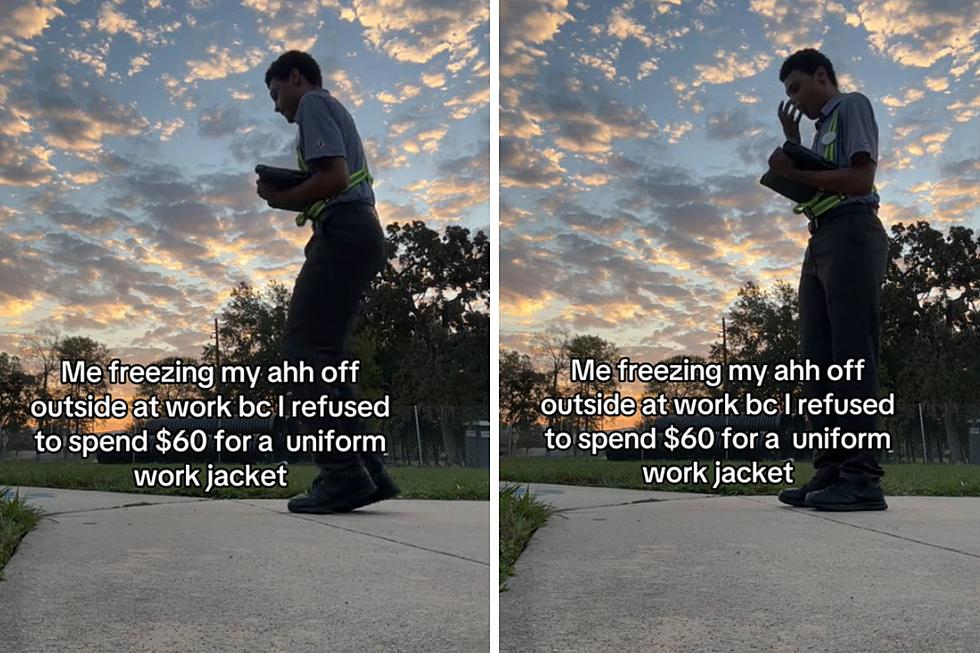 Chick-fil-A Worker Goes Viral 'Freezing' Outside After Refusing to Pay for Expensive Uniform Jacket
@coolkid._3 via TikTok
A Chick-fil-A worker is going viral after refusing to pay for an expensive work uniform jacket.
The young employee went viral on TikTok after filming himself "freezing" outside wearing a short-sleeved top while working a recent shift because he "reused to spend $60 for a uniform work jacket."
The worker claims the Chick-fil-A he works at "left [him] outside for [three] hours" with no jacket to keep warm.
Watch below:
In the comments section, viewers were astonished that Chick-fil-A would allegedly allow an employee to work outside in cold conditions without a jacket.
"They don't give you guys jackets to borrow?" one person wrote.
"They don't let you wear a different jacket?" another commented, to which the employee replied, "NO BRO."
"Companies who require you to be outside should provide you with a jacket," someone else chimed in.
"Bro, I'm mad for you! The uniform should be provided for free," another viewer wrote.
READ MORE: Hooters Waitress Reveals They Have to Buy Their Own Tights From Vending Machine
In another TikTok video, YourTango provided more insight into the wages of Chick-fil-A employees in the U.S.
According to YourTango, "Chick-fil-A's average worker pay $13.06 per hour, which means that a worker would have to work over four and a half hours to even be able to buy this jacket ... Based on cost-of-living data for every state in the USA, a full-time Chick-fil-A employee wouldn't even make the bare minimum to get by."
In the comments section, employees from other companies shared their own similar experiences.
"Tractor Supply is the same. I got in trouble because I was wearing a beanie that didn't say Tractor Supply," one user wrote.
"When I worked at Culver's as a teen, I asked for a jacket [because] I was running orders outside in [Wisconsin] winter and they flat-out denied the request," another shared.
"When I worked for Hilton we had to wear Hilton-branded only. $65 for a thin windbreaker that did nothing," someone else commented.
Chick-fil-A has not responded to the viral employee's claims as of publishing.
Stars Caught in Big Lies
These celebrities were caught fibbing about their ages, backgrounds and more.